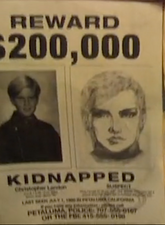 The photo of a kidnapped young boy named Christopher Landon, is briefly shown on a reward poster inside the home of Oscar Lopez. The sketch of a female suspect is also displayed on the poster with a reward of $200,000. No other details are known of Christopher, although it is possible he was from Petaluma, Califormia. His kidnapping, which took place at unknown date and time, was likely attributed to the Midwives Coven, and his fate and whereabouts are both unknown.
Christopher Landon

Gender

Male

Age

Around 11 or 12.

Current Status

Unknown

Family& Relatives

None Known

Portrayed By

N/A
Ad blocker interference detected!
Wikia is a free-to-use site that makes money from advertising. We have a modified experience for viewers using ad blockers

Wikia is not accessible if you've made further modifications. Remove the custom ad blocker rule(s) and the page will load as expected.