Paranormal Activity: The Ghost Dimension
Comments

24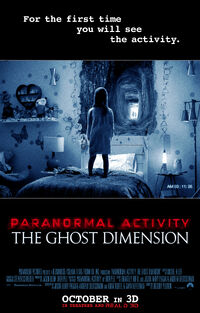 Paranormal Activity: The Ghost Dimension is a 2015 American supernatural horror film and the sixth installment of the "Paranormal Activity" film series. It is scheduled to be released on October 23rd, 2015.
The family enduring the scares this time are Ryan, Emily, their daughter Leila, and Ryan's younger brother Mike. Another daughter has died a year previous to the film. The location is Pala Alto, where the clan have just moved from New York, so that videogame designer Ryan can start his new job at the Newspaper Offices. Emily, meanwhile, is an earth-mother type who does yoga, while Leila is described as a tomboyish combination of her big-kid dad and more mature mom. There's no explanation of why Uncle Mike lives with them, but he's "essentially a less fit, less funky" version of his brother.
Their daughter Leila seems to be a mixture of both – a bit of a fearless, opinionated tomboy. And it goes without saying, Ryan and Emily's family quickly realizes something is not OK within their new house.
Production
Edit
Katie Featherston is confirmed to reprise her role as Katie.
The film was originally scheduled for October 2013 release, but instead was pushed back to October 2014 when it was announced in June 2013 that filming for Paranormal Activity: The Marked Ones was almost finished. However, on September 17, 2014, it was announced that the film was postponed, and would instead be released in March 2015, and would assume the title "Paranormal Activity: The Ghost Dimension". The film will be directed by Gregory Plotkin, the editor of the past films, and written by Andrew Stark and Jason Plagan. A trailer was officially released on June 23rd at midnight.