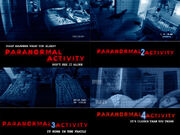 This is a timeline of events shown in chronological order throughout all known events and across all four films.
Grandma Lois makes a deal with Toby for wealth and fortune; Toby will receive the next baby boy in her family as a result.
Kristi meets an "imaginary friend" named Toby, who is actually the demon.
Katie interacts with Toby for the first time when he scratches Dennis's friend, Randy, and she witnesses it.
A grown-up Kristi gives birth to Hunter.
A grown-up Katie meets her boyfriend Micah and they move in together.
Toby attempts to kidnap Hunter but builds up a certain level of fear first.
Dan, Kristi's husband, makes a deal with Toby for him to haunt Micah and Katie instead.
Micah and Katie realize that a demon is in their house and Katie tells the prequel story. Then they contact a paranormal expert who confirms that it is a demon, and recommends a demon expert to them.
Micah starts to taunt Toby.
Toby terrorizes Micah & Katie.
Hector appears in Katie's house due to the brown door and possessed Katie walks down the stairs, secretly grabs a knife, while Hector pleads Katie's for help. She starts screaming as if she was terrified of him. This causes Micah to rush downstairs to see what happened and starts to beat Hector up before getting killed by Katie.
Jessie appears possessed and kills Hector. Grandma Lois (Conformation Needed) appears.
Katie goes to Kristi and Dan's house, kills them and kidnaps Hunter.
The Nelson family adopts Hunter. (now called Wyatt)
Katie and Robbie move into the Nelson's neighbourhood,
Robbie becomes friends with Wyatt.
Alex begins to notice strange occurrences around her house.
Katie and Toby kill off the family, leaving Alex and Wyatt.
Alex flees to Katie's house, and gets attacked by her inside.
Alex attempts to flee Katie's house from the backyard, encounters Wyatt and the coven, and Katie kills her off.